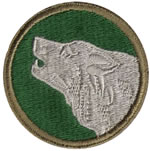 WELCOME

An Association of the grateful Sons, Daughters, Families and dear Friends of the World War II Veterans of the 104th Infantry Division, U.S Army

---
Our Mission...

The National Timberwolf Association is revered by all of the sons and daughters of the soldiers of the Division. These Timberwolf "Pups" share a bond with deep roots and its membership has a vitality that together compels continuing the tradition of honoring the soldiers of the 104th Infantry Division and celebrating their accomplishments. It will be this Association's mission to ensure that future generations have an organization that is dedicated to keeping this important history alive and to honor its fallen.
---

---
Hop on to a City tour or a Dinner Cruise,
or come learn at an all-new War History Writing Seminar.
Stay for our solemn Memorial Service,
& join the fun at our Banquet and Beer Busts!
Head over to our
Reunion Page
to
find out more and register today.
---
---
The Howl Vol. 3, No. 2 is en route to a mailbox near you and is available online here!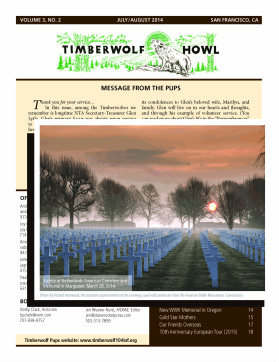 Please enjoy the stories and updates included in our first edition of 2014.
The Howl incorporates the history, past and present,
of the 104th Infantry Division and the honors they have achieved.
Inside you will find personal histories and family inquiries, Anniversary Memorials,
European ties, and our Last Bugle Call.
You will also find all registration papers for the upcoming
2014 NTPA Reunion
in the twin cities of Minneapolis & St. Paul, MN,
as well as the beginnings for the 2015 Battlefield Tour in Europe!
Many thanks to all of our contributors!
---
---
An Oregon State University Graduate Student, Mike Jager, joined us at the 2012 NTPA Reunion to interview and record the Oral Histories of our Timberwolf Veterans.
Brigadier General T.K. Moffett and our Friends from Holland and Belgium are also featured in this brave project!
They are posted on his
Youtube channel
or can be viewed on our
Links and other sites
page.
The 16 (and counting!) videos can also be found by searching for
"104th TImberwolf Division Oral History Interview" on
Youtube
.
I think you will agree that an enormous amount of thanks are due to both our Veterans for sharing their experiences and to Mike Jager for preparing and sharing this essential body of work.
Our appreciation knows no bounds.
---
War Stories of WWII
Written by the Soldiers of the 104th Infantry Division
TIMBERWOLVES

The NTPA is honored to announce that copies of this wonderful collection of personal Timberwolf histories are for sale and readily available!
Interested parties, please complete the order form, War Stories Order Form,
and
send a $25.00 check made out to the National Timberwolf Pups Association (NTPA) to:
The National Timberwolf Pups Association
105 NE Milne Road,
Hillsboro, OR, 97124
The NTPA would like to thank our Veterans and the National Timberwolf Association for this generous offer!
---
---
Membership information:

2014 Membership dues are due!
Our by-laws state that membership in the Organization begins in January of each year, however, we will accept dues at any time and will certainly encourage people to pay their dues for the next year at the Reunion if they wish.
Please include this
MEMBERSHIP FORM
with your dues.
Membership dues are:
$10.00 for Timberwolf Veterans of WWII and their wives
$20.00 for Pups, Friends, and all other interested parties
If interested, please send name, address, e-mail and payment to:
JeNeal Granieri
1749 9th Avenue
San Francisco, CA 94122
(All checks should be made payable to The National Timberwolf Pups Association)
---
Please visit our new guestbook and share you story!
NTPA Guestbook
If looking for information regarding our Veterans, please be sure to fill out our Contact Information so we can respond!
---
---
We appreciate your comments about our site. If you discover problems, please advise the Webmaster.
Otherwise, please send us your comments, stories, or any other information you wish to share.
Please do not send anything obscene or offensive.

Last updated: August 4, 2014